The NEACD Presents
Friday, October 7, 2022
DoubleTree by Hilton Hotel Boston-Andover
123 Old River Road, Andover, MA
Dr. Chris Ramsey
"MASTER Your Sixth Sense:
Understanding the Art of Persuasion,
Body Language and
Human Decision Making for
Improved Treatment Acceptance"

Don't miss this opportunity for you and your staff to share this amazingly energetic speaker and spark your entire team's attitude towards excellence in communication, patient relations, and overall success in the dental practice.
7:15 AM:Breakfast/Registration;
8 AM Course begins; Lunch Included
Course Description:
THIS COURSE IS A MUST FOR EMPOWERING YOUR STAFF AND BUILDING A TEAM!
Every team member will benefit from listening to Chris.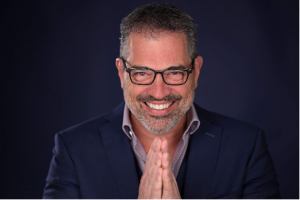 Dr. Chris Ramsey is an Accredited Member of the American Academy of Cosmetic Dentistry and a graduate of the Kois Center. But he is most famous for his exciting team building lectures and helping dentists and their staffs grow their successes through communication. Listening to Chris lecture is like riding on a supertrain, except there are no stops… just a direct route to an even better dental practice, thriving relationships and a more rewarding life.
He practices in Jupiter, Florida at Ritter and Ramsey and is also one of the most sought-after lecturers in dentistry. Once you attend his course, you will understand why.
Don't miss the opportunity to experience this presentation by Dr. Chris Ramsey and receive insightful knowledge that will help you and your staff work as a team to successfully communicate with your patients and each other. Building relationships is one of the most important aspects of any dental practice. Learn from a master on how you too can Master this skill to enhance your life, your interactions with your team and your patients, and increase your satisfaction in practicing in the field you love.
OBJECTIVES:
– Provide the participants with the tools necessary to "see" what others do not in everyday communication – "The Sixth Sense"
– Provide participants the simple understanding of "Body Language" cues which allow for better communication.
– Provide insight into both conscious and sub-conscious decision making and how that effects treatment acceptance.
– Provide an understanding of the Art of Persuasion and its effect on decision making.
– Provide insight into hospitality and "Disney" style customer service elements that lead to dynamic changes.
During this session Dr Ramsey will cover the elements of his M.A.S.T.E.R. program. This trademarked concept will highlight specific elements of both verbal and non-verbal communication. The M.A.S.T.E.R. program encompasses the concepts of Human Decision Making, Language, and the Art of Persuasion. With the understanding of these elements, the doctor and team members will begin to see what many others do not in everyday communication. This approach ultimately leads to increased case acceptance and improved interpersonal relationships.